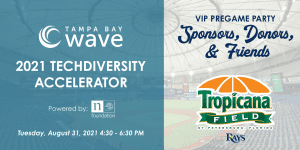 Tampa Bay Wave is proud to host the fourth annual TechDiversity Accelerator Powered by The Nielsen Foundation on Aug 31st from 3:00-4:30 pm
A waitlist has been enacted as we monitor Tropicana Field protocols for live events. You will be contacted automatically with further instructions prior to the event. No further action is required from you.
Thank you so much for your interest in learning more about these amazing startup companies pitching:
AI Technology & Systems, Inc
Headquartered: Milpitas, CA
Building world's largest EDGE AI app-store and marketplace built with edge compiler tool-chain to produce cost-effective firmware for bare metal devices including 300 billion Edge and MCU devices.
Canopie
Headquartered: Washington DC
Canopie's personalized, therapeutic program uses clinically validated methods to treat postpartum depression.
DeLorean Artificial Intelligence, LLC
Headquartered: Wellington, FL
DeLorean Artificial Intelligence builds sentient and semi-sentient systems, using AI technology to predict future events and recommend next best actions to enhance a positive event or mitigate a negative event.
Digital Leader Academy
Headquartered: South Bend, IN
Digital Leader Academy helps educators illustrate to students how technology is transforming their subject area, allowing supply chain and logistics teachers to teach blockchain and marketing teachers to teach artificial intelligence, all with no prior expertise in the technology.
DUKE.ai
Headquartered: Dallas, TX
DUKE.AI, LLC provides automated accounting and bookkeeping for Owner Operators in the trucking industry to simplify business insights, file storage, and IRS tax compliance while on the road.
FanSaves Inc.
Headquartered: Ottawa, Ontario, Canada
FanSaves is a SaaS platform helping organizations and sports teams sell more sponsorship by giving their sponsors a digital way to offer discounts and deals to fans while tracking customer analytics and ROI.
GoManda
Headquartered: Austin, TX
GoManda is an app that empowers autistic children to learn vocabulary by using their individual learning style to teach.
Otter, LLC
Headquartered: Boulder, CO
Otter Waiver is the only digital waiver and participant management software designed specifically for the outdoor industry. With Otter, save time, money, and trees.
Rehametrics
Headquartered: Valencia, Spain
Rehametrics develops software to make physical and cognitive rehabilitation measurable and more motivating across care settings.
SafePush,LLC
Headquartered: Virginia Beach, VA
SafePush,LLC is a biomedical product development company that creates and develops medical devices that make patient care safer.
SageSurfer
Headquartered: Sunnyvale, CA
SageSurfer is a web and mobile application that supports members struggling with mental health & substance use disorder in between visits and helps providers deliver compassionate, culturally competent integrated care.
Sensfix, Inc.
Headquartered: Santa Clara, CA
Sensfix is an IoT AI-driven Service Lifecycle Management platform that helps Operation & Maintenance managers in industries and enterprises easily digitize their workflows, making devices self-schedule, self-dispatch and self-ticket repair and maintenance needs automatically.
Spontivly
Headquartered: Edmonton, AB, Canada
Spontivly is a Community Management System that connects an organization's community tools, handling the full lifecycle of community management from streamlining workflows to generating community insights.
the*gameHERs
Headquartered: New York, NY
the*gameHERs is the first and largest media platform, social networking community, and lifestyle brand for women who game and who work in the gaming space.
UzeLink
Headquartered: New York, NY
UzeLink is a mobile application that allows users and their buddies to receive notifications when there is a change in health and activity patterns.