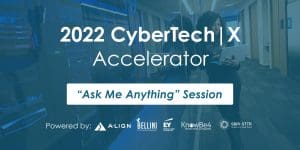 Meet the team and join us for an Ask Me Anything (AMA) session about Tampa Bay Wave's CyberTech|X Accelerator.
About this Program
The CyberTech|X Accelerator is a highly specialized 90-day accelerator program exclusively for innovative and disruptive technology startups focused on cybersecurity.
Participating startups will benefit from the tools and connections they need to achieve high-scale growth, including the strategic support and global network that come from Wave's incredible track record and world class programs. Further, startups will have access to coaching and mentoring from some of the nation's leading cyber security experts , including from our key sponsors at A-LIGN, EY, and KnowBe4, as well as from our strategic partners at Cyber Florida, the University of South Florida's Muma College of Business, Aditum, and Jabil.
Generous support for this program was also provided by Bellini Better World, a non-profit foundation created by the former founder and CEO of Connectwise, Arnie Bellini, after selling the company for over $1.5 billion in 2019.
NEW FOR 2022! Thanks to a U.S. SBA Growth Accelerator Fund Competition award, at least 5-7 seats in the 2022 cohort will be reserved exclusively for women-led cybersecurity startups!
Tampa Bay Wave is a 501(c)(3) nonprofit and takes no equity from participating companies. Wave is also a proud accredited member of GAN.co.
This session will be led by:
Program Manager, Jonathan Truong
Cohort Director, Dr. Richard Munassi