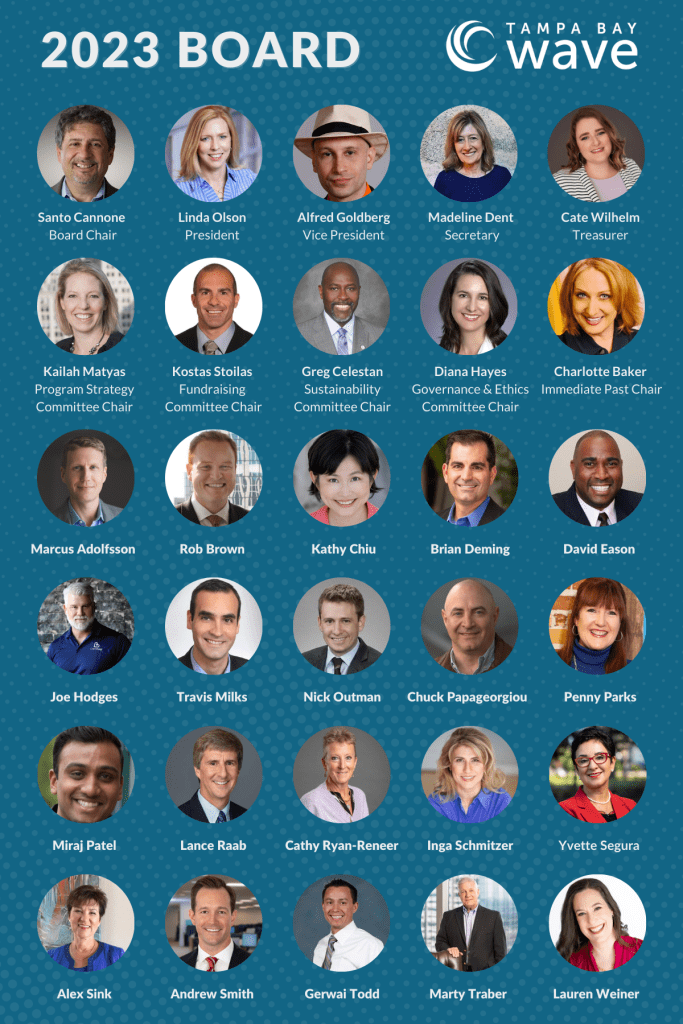 Tampa Bay Wave is proud to announce our 2023 Board of Directors, led by Santo Cannone, former COO of Connectwise. With the support of our community and this brilliant group of individuals, Wave has the opportunity to grow upon the solid foundation we built over the past decade. Through our world-class accelerator programs, we are excited to zero in on this inflection point by developing regional innovation clusters that will enhance Tampa Bay's tech ecosystem and drive sustainable economic development. Thank you to Wave's 2023 Board for helping us to achieve this mission!
"Wave's Board embodies the expertise, imagination and commitment of the Tampa Bay tech ecosystem. Wave has been an integral part of Tampa Bay's emergence as a tech powerhouse. Our Board is committed to Wave continuing to add value to our local early stage companies and to projecting our region's value outside of our area." – 2023 Chair Santo Cannone.
2023 Executive Committee
Board Chair – Santo Cannone, Connectwise
President / CEO – Linda Olson, Tampa Bay Wave
Vice President – Alfred Goldberg, Absolute Marketing Solutions
Secretary – Madeline Dent, Intel
Treasurer – Catherine Wilhelm, CBIZ MHM
Program Strategy Committee Chair – Kailah Matyas, Redwood Partners
Fundraising Committee Chair – Kostas Stoilas, Fortress Commercial Real Estate
Sustainability Committee Chair – Greg Celestan, Celestar Corporation
Governance & Ethics Committee Chair – Diana Hayes, Trenam Law
Immediate Past Chair – Charlotte Baker, Digital Hands
2023 Board of Directors
Marcus Adolfsson, TampaBay.Ventures
Rob Brown, Ernest & Young (EY)
Kathy Chiu, DeepWork Capital
Past-Chair – Brian Deming, Crucis
David Eason, EDJKonsulting
Joe Hodges, CareValet
Travis Milks, Topmark Partners
Nick Outman, Hill Ward Henderson
Chuck Papageorgiou, Ideasphere Partners
Penny Parks, Links Financial
Miraj Patel, Harness
Lance Raab, Florida Funders
Cathy Ryan-Reneer, JPMorgan Chase & Co.
Inga Schmitzer, MHK
Yvette Segura, USAA
Past-Chair – Alex Sink, Chief Financial Officer for the state of Florida
Andrew Smith, Goldman Sachs
Gerwai Todd, TimeZest
Marty Traber, Skyway Capital Markets
Lauren Weiner, WWC Global