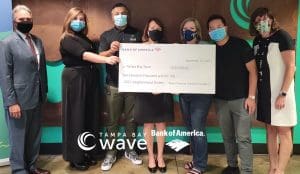 2021 Bank of America Neighborhood Builders® Award
Once upon a time, Tampa Bay was not revered as a hockey town, so it's no secret that Champa Bay has come a long way. Tampa Bay wasn't always recognized as a tech innovation hub either. But just this year, Forbes declared Tampa as the #1 emerging tech city in the US!  For more than a decade, Wave has been on the forefront in driving the growth of Tampa Bay's tech ecosystem, while proudly leading the effort to support a more diverse and inclusive economic ecosystem that creates equitable pathways to entrepreneurship for all.
Tampa Bay Wave and the Boys & Girls Clubs of the Suncoast were the two nonprofits selected for the highly-competitive 2021 Bank of America Neighborhood Builders® award, granting each organization $200k over a two-year span. This funding will help Wave build out capacity within our organization with a special focus on bolstering our support of underrepresented entrepreneurs and the startups they are building within our CORE membership. In addition, a portion of the funds will be set aside to provide scholarships to our programs for those startups that meet certain LMI (Low-to-Moderate Income) or diversity criteria.
Over the past few years, the local marketplace needs have exceeded our delivery model. Thus, expanding our capacity of our CORE Membership team will allow us to serve even more startups with our world-class programs and services, including our dedicated staff, 130+ volunteer mentor network, access to capital and other resources critical for startups to thrive and scale.
As an added benefit of the Neighborhood Builder grant, Wave CEO, Linda Olson, along with Ramit Singh, Director of Startup & Entrepreneurial Programs, will participate in Bank of America's nonprofit leadership development program and gain access to a network of peer organizations from across the country.
This generous funding will undoubtedly help Wave to continue fostering a diverse and inclusive tech ecosystem for the region by expanding our support for those at greatest risk by removing economic obstacles and offering more startups equal access that would allow them to thrive, create jobs, and break down barriers to success. Ultimately, Tampa Bay Wave is driving transformational and generational change in Tampa Bay through entrepreneurial-led economic development, and we could not do this without the incredible support of community partners like Bank of America!
You can read the full story here.