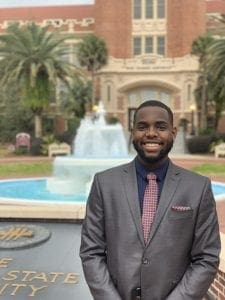 Meet our newest team member, David Wedderburn!
David is interning with Tampa Bay Wave this summer, thanks to a very special program, called the Tech Fellows Program, run by FSU's Center for Academic Retention and Enhancement (C.A.R.E.) and Center for Undergraduate Research and Academic Engagement (C.R.E.). This unique program exposes first-generation students to the daily task of product development, entrepreneurship, and ecosystem building.
David is a proud member of the 2021 Tech Fellows cohort. He attends Florida State University and plans to graduate in May of 2023 with a degree in marketing.
During his internship, he will also be collecting information for his qualitative research project. His objective is to determine the factors preventing African-American-owned startups from gaining investment capital which can impact their business' ability to scale. Several studies show that the number of African-American startups are at a severe disadvantage when it comes to raising early stage investment capital. By interviewing various venture capitalists (VCs), he'll gain insight from an investor's perspective with the goal to identify any underlying factors that may prevent them from investing in an African-American owned business. 
Factors that might contribute to VCs deciding not to invest in a startup include the company's management team, business plan, or even their pitch. Through Tampa Bay Wave, he is presented with invaluable opportunities to learn what VCs and angel investors look for in a startup, giving him the opportunity to capitalize on that knowledge and apply what he learns once he decides to build his own company. He also plans to share that information with other business owners, and startup founders in his community; to assist other entrepreneurs in securing funding for their business ventures.
We asked David why he's looking forward to spending the summer with us, "I'm excited about my internship at Tampa Bay Wave because I will have the opportunity to become fully immersed in the entrepreneurial sector and work with a dedicated team to expand the entrepreneurial ecosystem in Tampa and beyond. Working at the Wave this summer will allow me to work with, and for startup founders who are driven to change the way we live for the better."
In his spare time, David loves to play basketball and ping-pong with his friends! He is intrigued by personal finance, and enjoys teaching others about money management and how to initiate their credit journey. He also likes anime and cooking.
We're looking forward to watching David grow this summer with our team!