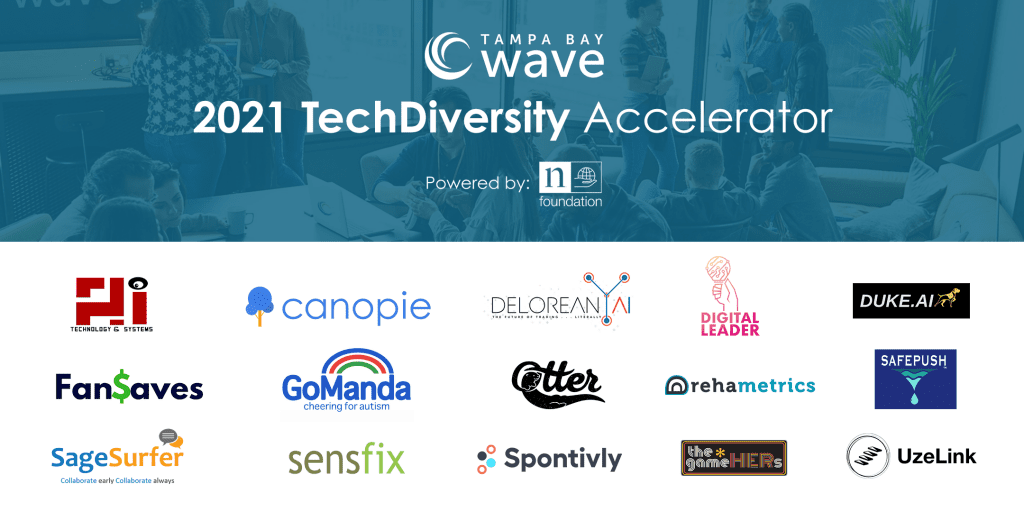 Tampa Bay Wave (Wave) is proud to announce the 2021 TechDiversity Accelerator program cohort consisting of 15 incredible high-growth tech startups from across the United States and abroad.
Funded by the Nielsen Foundation since 2018, the 90-day TechDiversity Accelerator program works to support and accelerate leadership diversity, equity and inclusion within high-growth, early-stage tech startups. Selected companies must be 51% owned, controlled and operated by black, indigenous, and people of color (BIPOC) or other underrepresented entrepreneurs,  minorities, women, veterans, LGBT, people with disabilities or combination thereof.  
"The Nielsen Foundation is excited to support the fourth year of the TechDiversity Accelerator to provide greater opportunity for diverse entrepreneurs to grow their businesses and influence in the tech sector," said Andrea Bertels, President and Executive Director of Grantmaking at the Nielsen Foundation. "COVID-19 has shown the persistent inequalities across economies and the importance of inclusion in economic opportunities. We're proud to be part of the solution by continuing to support the TechDiversity Accelerator."
TechDiversity cohort participants were selected from several hundred applications from companies spanning 30 countries internationally, 28 states and 120 cities across the United States. Past TechDiversity participants have hailed nationally from locations including Philadelphia, Los Angeles, New York City, Austin, Dallas, Boise, and Washington DC; and internationally, from Santiago, Chile, São Paulo, Brazil, Lima, Peru, and more.
Through accelerator programming, cohort companies will receive executive coaching, comprehensive mentoring from industry experts, strategic introductions, and preparation for investor meetings — all culminating in Demo Day, which is a unique opportunity for founders to present their visions to a room full of national and international investors, leaders and press.
"There is tremendous opportunity to increase founder diversity and funding within high-growth technology startups, and we're proud to work with the Nielsen Foundation to continue to build this program and strengthen our commitments to advancing diversity and inclusion within the early-stage, startup space," says Linda Olson, founder and CEO,  Tampa Bay Wave.
In 2020, TechDiversity cohort company, SoLo Funds won the Established's "Startup of the Year" competition, a highly competitive startup competition that draws thousands of applications from throughout the world; in previous years, TechDiversity companies, Hoy Health and NeuroFlow both finished in the top 15. Past TechDiversity companies have also received high profile features in Crunchbase and Forbes, achieved rapid national growth trajectories and raised large funding rounds (Series A, Series B) in 6 to 18 months post-accelerator. 
The Wave's accelerator program is the only Florida-based accelerator program accepted into GAN (gan.co), a network of the most respected accelerators around the world. Thanks to the generous support of The Nielsen Foundation, the TechDiversity Accelerator program is free to cohort companies and is a zero equity program. 
Among the 15 new TechDiversity cohort companies, seven have women founders, four have Asian/ Pacific Islander founders, and multiple founders are of LBGT backgrounds. Fourteen of the startups are based in thriving tech cities outside of Florida. The selected cohort features high-potential startups in HealthTech, FinTech, EdTech, and Artificial Intelligence.
Not only does Wave's TechDiversity program continue to attract startups from across the U.S. and abroad,  many of the startups historically are also graduates of other highly-competitive programs such as Y Combinator, TechStars, Alchemist, Harvard Innovation Labs, Zeroto510, Johnson & Johnson J Labs,  and TMCx.  This year's cohort includes multiple companies with founders who have had prior exits. One founder is also a Tillman Scholar.
THE 2021 TECHDIVERISTY COHORT INCLUDES:
Headquartered: Milpitas, CA
Building world's largest EDGE AI app-store and marketplace built with edge compiler tool-chain to produce cost-effective firmware for bare metal devices including 300 billion Edge and MCU devices.
Headquartered: Washington DC
Canopie's personalized, therapeutic program uses clinically validated methods to treat postpartum depression.
Headquartered: Wellington, FL
DeLorean Artificial Intelligence builds sentient and semi-sentient systems, using AI technology to predict future events and recommend next best actions to enhance a positive event or mitigate a negative event.
Digital Leader Academy
Headquartered: South Bend, IN
Digital Leader Academy helps educators illustrate to students how technology is transforming their subject area, allowing supply chain and logistics teachers to teach blockchain and marketing teachers to teach artificial intelligence, all with no prior expertise in the technology.
Headquartered: Dallas, TX
DUKE.AI, LLC provides automated accounting and bookkeeping for Owner Operators in the trucking industry to simplify business insights, file storage, and IRS tax compliance while on the road.
Headquartered: Ottawa, Ontario, Canada
FanSaves is a SaaS platform helping organizations and sports teams sell more sponsorship by giving their sponsors a digital way to offer discounts and deals to fans while tracking customer analytics and ROI.
Headquartered: Austin, TX
GoManda is an app that empowers autistic children to learn vocabulary by using their individual learning style to teach.
Headquartered: Boulder, CO
Otter Waiver is the only digital waiver and participant management software designed specifically for the outdoor industry. With Otter, save time, money, and trees.
Headquartered: Valencia, Spain
Rehametrics develops software to make physical and cognitive rehabilitation measurable and more motivating across care settings.
Headquartered: Virginia Beach, VA
SafePush,LLC is a biomedical product development company that creates and develops medical devices that make patient care safer. 
Headquartered: Sunnyvale, CA
SageSurfer is a web and mobile application that supports members struggling with mental health & substance use disorder in between visits and helps providers deliver compassionate, culturally competent integrated care.
Headquartered: Santa Clara, CA
Sensfix is an IoT AI-driven Service Lifecycle Management platform that helps Operation & Maintenance managers in industries and enterprises easily digitize their workflows, making devices self-schedule, self-dispatch and self-ticket repair and maintenance needs automatically.
Headquartered: Edmonton, AB, Canada
Spontivly is a Community Management System that connects an organization's community tools, handling the full lifecycle of community management from streamlining workflows to generating community insights.
Headquartered: New York, NY
the*gameHERs is the first and largest media platform, social networking community, and lifestyle brand for women who game and who work in the gaming space.
Headquartered: New York, NY
UzeLink is a mobile application that allows users and their buddies to receive notifications when there is a change in health and activity patterns.