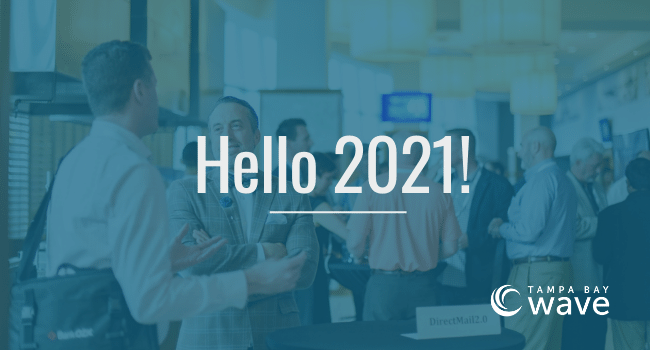 By Linda Olson, CEO, Tampa Bay Wave 
If you are like me, you are both glad that 2020 is over but also still reflecting on what has to be one of the most unusual years… dare I say "unprecedented."  While it was truly exhausting, I am not only very proud of the work that Tampa Bay Wave has done this year, but I am also even more inspired for the future! 
If 2020 taught us anything, it is that the world can change in an instant, and that innovation is needed now more than ever.  We all saw just how fast this pandemic can spread around the world, highlighting just how globally integrated we really are.  Thus, many of our biggest problems facing society today are most often global problems now.
And this realization should be a wake-up call for all of us, including the innovation community in Tampa Bay.  The startups we support are not just creating local jobs and making a significant financial impact here in Tampa Bay.  Many of these startups are solving really big, important problems – and in many cases, global problems – in areas such as healthcare, mental health, education, cybersecurity, and tools for remote workforces. Some of these startups help other small businesses survive; some of these startups even save lives.
With Wave's vision for Tampa Bay to become a nationally recognized hub for technology talent and startups, this new world order means this vision is even more within our reach.  There is virutally no reason why the next most important innovations cannot come from here, and thus it is our job to make sure they do not have to leave the region to reach success.
With over 120 startups in our portfolio of clients, not one of these companies were left untouched by the pandemic.  Some clients faced extraordinary financial challenges, however the majority saw new doors open or new applications for their technology.  Truthfully, watching these entrepreneurs dig in over the past 9 months, handling such epic business challenges with incredible creativity, not to mention using sheer grit and determination, I am in awe.  
However, I am even more thankful for what the Tampa Bay Wave staff and the greater Tampa Bay community did to rally around these startups.  Frankly, my team responded to the pandemic and all its uncertainties, pivoting and innovating much like the entrepreneurs we support.
We quickly pivoted all programming to

100% virtual

, including our nationally-recognized TechDiversity Accelerator, sponsored by the Nielsen Foundation, and successfully recruited companies from across the US and Latin America again, despite the pandemic.

We launched a new 90-day accelerator program, in the middle of a pandemic no less, exclusively for

women-led startups

in Florida, in collaboration with our partners at

Embarc Collective

, thanks to funding from JPMorgan Chase.

We garnered

national media coverage

for the Tampa Bay tech community with coverage in Forbes, The New York Times., Yahoo News, and more.

We established

 our first-ever micro-loan fund, called the

Rising Tide Relief Fund

, and raised over $40,000 from the local community!!

We partnered with

Think Big for Kids

,

eSmart Recycling,

Tampa Bay Tech

(TBT) for a new annual laptop donation drive to benefit the kids of the

Boys & Girls Clubs of Tampa Bay

. Nearly 1,000 pounds worth of devices have been donated so far (and more devices are still coming in)!

We launched our

new Wave scholarship program to make sure that financial wherewithal does not determine who gets ongoing access to support like our mentorship-driving programming, coworking, and more.


We led the effort to co-host

IN AWE

(Investing in, Nurturing and Accelerating Women Entrepreneurs), a new annual signature event in Tampa Bay in partnership with

USF's Women in Leadership & Philanthropy

,

Tampa Bay Business & Wealth Magazine

,

Synapse

, and Embarc Collective

.
On top of all this, we continued growing our
world-class mentor network
, as well as our investor network, for the benefit of the startups we support.
Overall,
in the past 12 months, these companies raised nearly $100 million and created over 500 new jobs in the past year – just WOW!
Plus, thanks to founding sponsors Bellini Better World, A-LIGN, EY, and KnowBe4, along with support from Aditum, Bank of America, Jabil, Raymond James, Sykes Enterprises, Cyber Florida, and USF Muma College of Business, we are kicking off our new CyberTech|X Accelerator in 2021, announcing the 15 companies in this inaugural cohort later this month.
Ultimately the amazing work over the past year by the Wave team, including our mentors and board members, really paid off, helping Tampa Bay Wave earn the distinction of  top accelerator in the Southeast US for the "most deals", BIP Capital's State of Startups in the Southeast Report (October 2020).
With a fresh year firmly underway, my team and I are ready to rise to the challenge and ride the wave in 2021.  We have even bigger plans for the coming year, all centered around some key themes:
Continue fostering the overall growth of Tampa Bay's tech community
Furthering our commitment to removing barriers for under-represented founders and fostering more diversity and equity throughout Florida's tech community
Amplifying our efforts to recruit more startups and talent TO Tampa Bay

Plus!

Many exciting post-COVID friendly renovations of our downtown Wave Venture Center
Economic downturns tend to ignite entrepreneurship, and necessity is the mother of invention.  Thus, in the coming months, as more innovation solutions are coming to market, we want to continue to ensure those companies that start here can stay here and grow here. Plus, with more than a dozen tech startups who have moved to Tampa in the past few years due to Wave's programs, we believe that trend will explode in the coming years, as long our community can provide the resources they need to reach breakout success.
We attribute all of this success to the inspiring entrepreneurs we serve, and the generous support of our community partners!
But don't blink…. the best is yet to come!