Funded by JPMorgan Chase, Wave's new TechWomen Rising Accelerator fosters growth and development for women-led technology startups while striving to close chronic funding gaps for women throughout the U.S.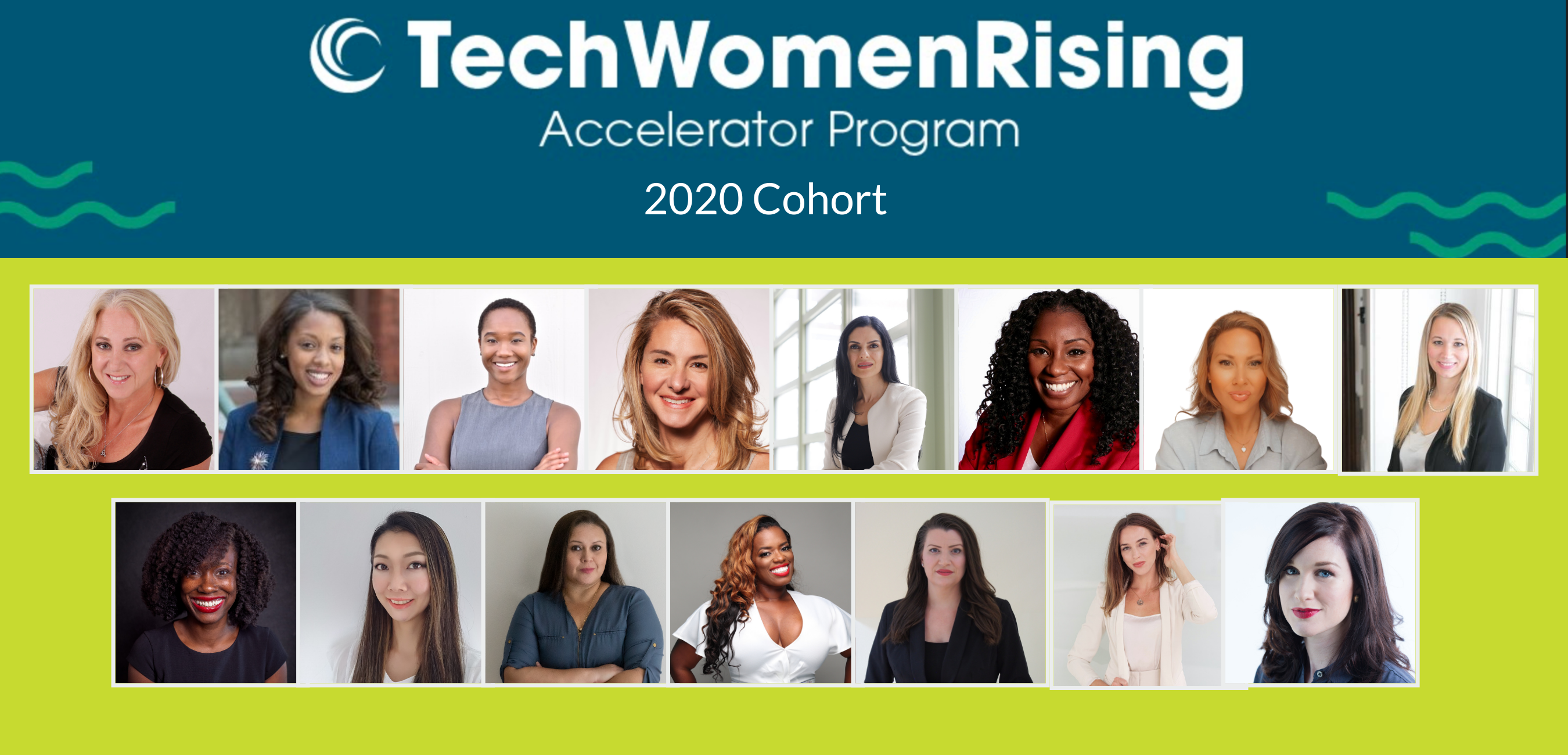 Tampa Bay Wave is proud to announce our inaugural cohort for the 2020 TechWomen Rising Accelerator, made up of thirteen promising female-led technology companies from around the state of Florida.
Funded by JPMorgan Chase, the TechWomen Rising Accelerator was created with the vision of empowering female-led technology startups in the region, expanding the impact of entrepreneurship through inclusion and promoting venture capital investments in female-founded companies.
The 90-day TechWomen Rising Accelerator offers companies access to invaluable resources such as a dedicated Cohort Director, one-on-one mentoring with notable tech founders, sales training, pitch coaching and investor introductions in an environment designed to support high-scale growth. TechWomen Rising Accelerator companies will also participate in Wave's Demo Day at the conclusion of the program in November to pitch their companies to a group of hand-selected investors and business leaders.
"While women are increasingly at the forefront of innovation in tech, they still struggle to receive ample funding and support for their companies," said Michele Grace, South division director for Chase Business Banking. "The TechWomen Rising Accelerator program helps women entrepreneurs in Florida overcome these challenges and provides the boost, encouragement, and confidence women need to help bridge the gap between men and women in the startup ecosystem."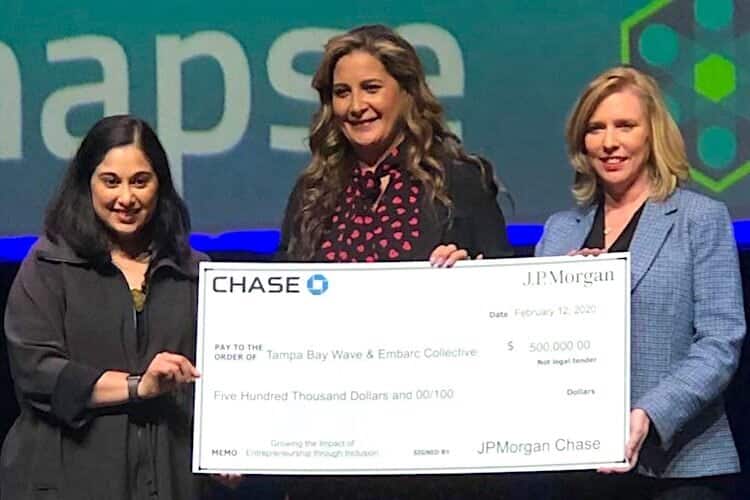 The new accelerator program is supported by a two-year $500,000 philanthropic commitment by JPMorgan Chase in a partnership between Tampa Bay Wave and Embarc Collective to create the Growing the Impact of Entrepreneurship Through Inclusion program as part of the firm's ​global initiative to encourage small business development, generate jobs and nurture diverse communities.
"Tampa Bay Wave is proud to partner with JPMorgan Chase to launch this important new accelerator program designed exclusively for women-led startups in Florida." said Linda Olson, president and founder of Tampa Bay Wave. "Programs like the TechWomen Rising Accelerator not only help today's women-led startups but also help to remove some of the barriers faced by women-led startups throughout the US. "
TechWomen Rising is the newest accelerator program offered by Tampa Bay Wave, the only Florida-based accelerator program accepted into GAN, a network of the most respected accelerators around the world.
The founders in the inaugural TechWomen Rising Cohort have diverse and accomplished backgrounds and include a Oxford PhD, a Harvard Business School MBA, a Foreign Service Officer with the Department of State, a former Investment Banker, a former Hedge Fund Manager, multiple nurses, serial entrepreneurs with successful exists and founders who come from some of the world's top businesses, including Deloitte, Groupon and more.
The thirteen companies participating in the 2020 TechWomen Rising cohort include:
20Lighter is a unique program helping clients achieve dramatically better health through reductions of inflammation and visceral fat, the holy grail of cardiovascular and metabolic disease.
CBO:​ ​Dr. Jess Barnes PhD ​
Location: Boca Raton, FL
AfroCurators is a digital media & entertainment brand that connects multi-generational African creatives through multimedia products and experiences.
CEO:​ Skye Idehen ​
Location: Tampa, FL
Cumeby helps companies with custom software achieve 5x performance, 10x productivity and 35% cost reduction by optimizing cloud infrastructure and automating workflows.
CBO:​ Hitomi Mizugaki ​
Location: Boca Raton, FL
Goldn: The Family App
Goldn is a family care management application that makes it easy for unpaid care takers to pay bills, set reminders and locate wanderers so that they have an inclusive way to empower loved ones while giving the caretaker the resources that they need.
CEO:​ Nia Jackson ​
Location: Tampa, FL
IVF Options provides fertility benefits to self-pay patients, negotiating discounted rates on fertility treatment, medication and genetic testing to make treatment more affordable to cash patients. IVF Options has helped over 2,000 patients in their fertility journey in both the US and abroad.
CEO:​​ Lexie Magyar ​
Location: Tampa, FL
Kinstak provides private cloud storage that automatically organizes photos, videos, and files into personalized categories that are easy to find and share privately with friends and family.
CEO:​ Carolyn Eagen ​
Location: Tampa, FL
Multimedia Augmented Reality Vocabulary Learning (MARVL) is an augmented reality (AR) application that teaches vocabulary in two languages simultaneously. MARVL presents dynamic, interactive, vocabulary instruction using evidence-based best practices for learning new words.
CEO:​ Dr. Sara Smith PhD​ ​
Location: Tampa, FL
Tepey
Tepey is a web-based matching and project management software solution that eliminates the guesswork of how to build a physical product, and where to find contractors and manufacturers at an affordable price.
CEO:​ Donteacia Seymore ​
Location: Tampa, FL
The Natural Nipple is designed for seamless and stress-free breast and bottle feeding, with the only nipple that is researched and designed to mimic a mother's shape, feel, and flow.
CEO:​ Lauren Wright PhD(c) ​
Location: Tampa, FL
UBQFIT, is a two-sided marketplace where livestream fitness training sessions are organized between Trainers and Trainees with a push of a button.
CEO:​ Ellie Samardi ​
Location: Boca Raton, FL
As North America's first aggregator of wellness, spa and active travel, Vacayou is poised to capitalize on the fastest growing sector of the travel industry – wellness travel.
CEO:​ Muirgheal (Muirelle) Montecalvo ​
Location: St. Petersburg, FL
Wedzee is a C2C/B2C marketplace that is designed to connect former and future brides, wedding planners and small business owners, while providing them a safer and more secure way to buy and sell new, used and custom wedding and event-related items online.
CEO:​ Jennifer Burns ​
Location: St. Petersburg, FL
weRise Investments facilitates building wealth and revitalizing underrepresented communities by connecting friend and family groups to a technology-enabled platform to pool funds and socially invest in diversified portfolios.
CEO: ​Candice Bradley​ ​
Location: Tampa, FL
To learn more about the TechWomen Rising Accelerator Program, visit https://www.tampabaywave.org/techwomen-rising/​.