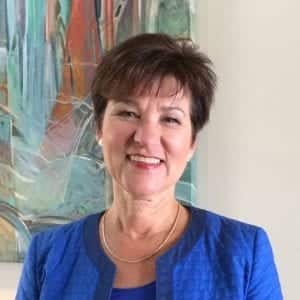 TAMPA, FL (March 21, 2018) – Tampa Bay Wave, Inc. (Wave), a local nonprofit dedicated to helping entrepreneurs build, launch, and grow breakout tech businesses in Tampa Bay, welcomes Alex Sink, American politician, and financier, as their newest Board Chair-Elect.
Alex Sink brings a variety of executive leadership skills to the Wave board that will be a tremendous aid to the organization's strategic planning and the clients Wave serves. Sink has extensive board governance experience, serving on boards such as United Way Worldwide Leadership Council, United Way of the Suncoast, Junior Achievement of Tampa Bay, Raymond James Financial, Wake Forest University Board of Trustees and more. Sink has also demonstrated a passion for entrepreneurship as founder of Florida Next, a nonpartisan, 501(c)(3) nonprofit organization, focused on diversifying Florida's economy through the growth of small businesses and entrepreneurship.
As one of the first female executives in banking, Sink built a distinguished 26-year career at Bank of America that culminated as president of Florida operations and, ultimately, was the first woman to serve as Florida's Chief Financial Officer. In 2010, Sink came within 60,000 votes of becoming Florida's first female governor in one of the closest races in election history. Additionally, Sink has been inducted into the Tampa Bay Business Hall of Fame and was most recently named the 2017 H.L. Culbreath Jr. Profile in Leadership Award winner by the Greater Tampa Chamber of Commerce.
Recently, Sink was named a Tampa Bay Lightning Community Hero and received a $50,000 donation which will be distributed to the Suncoast United Way, Tampa Bay Wave, Junior Achievement of Tampa Bay's JA Finance Park and the League of Women Voters.
"Tampa Bay Wave is thrilled to welcome Alex Sink as Board Chair-Elect," stated Linda Olson, President and Founder of Tampa Bay Wave. "Sink will lead all tactical efforts for Wave, ensuring our nonprofit organization forms strategic community alliances and equipped to achieve all of our entrepreneurial goals, including attracting tech company talent and capital to Tampa Bay."
The addition of Alex Sink to Wave Board Chair-Elect is yet another in a series of strategic additions to the Wave team and leadership, having recently appointed Avril Stinson, a seasoned investor relations manager, to Director of Development. Sink's years of public service and finance experience will add powerful community support development and funding guidance in addition to strategic leadership for Tampa Bay Wave.
"I am excited to serve as Chair-Elect at Tampa Bay Wave," said Sink. "I look forward to working closely with an outstanding and dedicated board, staff, and a growing variety of supporters. I am committed to focusing on collaboration with our many community partners to build and grow our Tampa ecosystem into a region that is nationally recognized for supporting entrepreneurs."