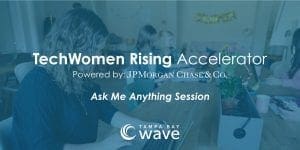 Meet the team and join us for an Ask Me Anything (AMA) session about TechWomen Rising Program.
Empowered women can change the world. Here at Tampa Bay Wave, we want to help women founders create innovative solutions to make the world a better place while also helping them close the gaps faced by women entrepreneurs everywhere. Powered by JPMorgan Chase, Tampa Bay Wave's new TechWomen Rising Accelerator is a 90-day business accelerator program designed for women-led startups enabled by technology. Participants will benefit from intensive mentoring, peer networking, investor coaching, and by establishing business connections.
The session will be led by Cohort Director, Dr. Richard Munassi.