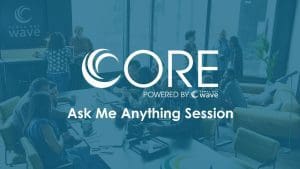 Meet the team and join us for an Ask Me Anything (AMA) session about Tampa Bay Wave's CORE Program
Tampa Bay Wave is proud to present the new and enhanced CORE program! This membership offers a unique community, designed to deliver ongoing support for high growth technology startups who are looking to scale faster, and change the world through their products and services. The revitalized CORE membership program that will help you:
Efficiently connect with other founders
Expedite exposure and access to capital
Access tools and resources to grow your startup
How do we make this happen?
Wave has created a digital platform and online community that will help you easily find and connect with other Wave founders, as well as our extensive mentor network. A growing, searchable knowledge library makes it easy to access tools and resources; strategic introductions to investors, customers and ecosystem leaders who will help facilitate growth.
Membership also includes:
Coworking spaces, including meeting rooms at Wave, access to PitchBook, and significant discounts, including AWS credits, Miro whiteboard credits, and hundreds of other discounts through GAN. Wave is the only GAN-recognized accelerator program in Florida and GAN discounts are available exclusively for CORE members.
Hosted by: Jonathan Truong