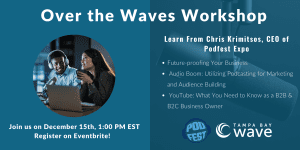 Tampa Bay Wave is proud to present, Over the Waves Workshop, featuring Chris Krimitsos, CEO of Podfest Expo! During this podcast marketing workshop & how-to session, Krimitsos will discuss how podcasting offers endless benefits and opportunities for business owners to expand and sustain your business.
Here are some topics we'll be covering!
Future-proofing Your Business: Opening up organizations to understanding where to look for their future growth in a world of artificial intelligence. Equipping you with the education, latest tools, and best practices for economic growth.
Audio Boom – Utilizing Podcasting for Marketing and Audience Building: Covering the increasing demand for on-demand audio, and the opportunities that lie within it.
YouTube – What You Need to Know as a B2B & B2C Business Owner: Chris will go into the hidden power for businesses within the YouTube algorithm. As well as how to tap into social influencers who are awaiting an opportunity to partner with you and your business.
Join us and learn from the experts who are passionate about using their voice to spread their message & build their brand!
Zoom: https://us02web.zoom.us/j/8657945414