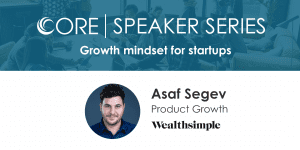 This session will cover key concepts and lessons in growth, and how they could be utilized to instill a growth mindset in any startup.
Asaf Segev is a product growth leader who specializes in building and scaling consumer-facing products that make people's lives better. His diverse background stretches from the Israeli Intelligence and Tel Aviv's vibrant startup scene, to Facebook and Amazon. He advises startups on growth strategy, customer retention and engagement.
Asaf heads Product Growth at the Canadian fintech Wealthsimple, which just recently raised $610M, tripling their valuation in just 6 months. Prior, Asaf was a Director of Growth at Amazon, focusing on its audiobook service Audible. Beforehand, Asaf was a product growth team founding member at Via, a rideshare startup that is now valued at $2.2B+, where he launched and oversaw Via's subscription product ViaPass.
Asaf is a Zell Entrepreneurship Fellow and Prizker Group Venture Fellow, has a B.Sc Engineering from Technion, and MBA from Northwestern's Kellogg School of Management.
He is based in Brooklyn, maintains an unhealthy obsession with Bob Dylan, and considered (by himself) to be his mother's favorite son.
Zoom Link:
https://us02web.zoom.us/j/89284145269pwd=bDV3amdnTm0xeWI2ajE4SnJlcEtwQT09